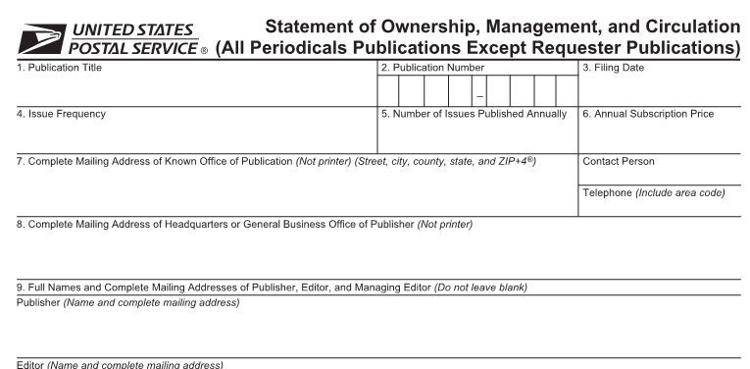 The deadline for filing your Statement of Ownership, Management, and Circulation (PS Form 3526) with the U.S. Postal Service is October 1 of each year.
The filing and publication of this form is a requirement for maintaining Periodicals mailing privileges. Dailies must publish a completed copy of this form in their newspaper by October 10, and non-dailies by October 31.
Not only is this important to be in compliance with postal regulations, but the Statement of Ownership, Management and Circulation is required for NMPA membership.
PS Form 3526 is a three-page form with a fourth page of instructions. The entries there are very straightforward. Claiming electronic paid subscribers is voluntary. If you choose to not claim electronic copies, page three has a box to certify that at least 50% of all distributed copies are paid for above a nominal price, and a signature section.
There are specific requirements as to what defines a paid electronic subscriber. A print subscriber that is given free access to your electronic version is not a paid electronic subscriber. A paid electronic subscriber must pay a separate subscription rate that you have established for electronic subscribers. You are allowed to offer discounts to this rate but there are limitations.
Additionally, reporting less than 60% total paid subscribers on your Statement of Ownership could trigger a USPS circulation audit to verify your Periodicals eligibility. Also, at least 40% of your paid circulation must consist of printed copies.
Once you have filled out your form, take it to your local post office and don't forget to run a copy of the form in your newspaper. In addition, the NMPA needs a copy of this form for our records.
For more information about PS Form 3526, go online to: https://about.usps.com/postal-bulletin/2007/html/pb22216/updt.3.13.html